Ken Keirns is one of those artists that manage to transmit with their art something extraordinary, simple and at the same time mysterious, intense and fragile, reminds us of the beauty of life and makes to look twice at his stunning artworks. Leivos honored to post the exclusive interview with Ken Keirns.
L: Can you tell us a little about yourself?
KK: I'm a Northern California based artist who grew up in Flint, Michigan.  After spending nearly a decade in Chicago, I moved out West in late 2007 to paint full-time and complain about the lack of snow. My primary focus has been working with oil paint on panels, though I also like to create the odd sculpture, toy prototype or mixed media piece. My recurrent subject matter revolves around cranially endowed women and monkeys as characters expressing personal experiences, dreams, and the occasional bad pun.
L: Women at your illustrations are modern, active and a little bit naughty.

KK: I wouldn't describe the women I paint as "naughty", but more like strong-willed.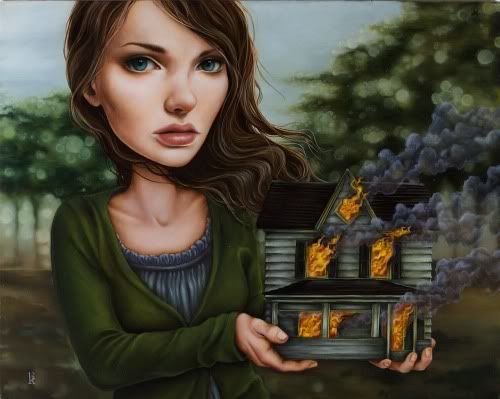 L: What ideas are important to your work?

KK: If the piece is telling a story, then the story is the most important part. I only get a single frame to convey what is sometimes a very complex storyline, so I have to try to deliver that message and spark a feeling with that obvious restriction.  Most of the ideas for my pieces start from a rough scribble or a short phrase that pops into my head.  I've done several pieces that are based on dreams that really don't make a whole lot of sense, but are fun images.

 I also really enjoy the glazing process. It's very slow, but I like how the layers build up depth and that process further guides me in developing the overall feel of the piece.
 
L: Is there totally non-art involved activity you continually find yourself enjoying?
KK: There isn't any one thing, I'm pretty focused on my work.  I don't get to keep banker's hours — I take my free time as I can find it between the crunch time leading up to shows.
 However, I do enjoy music (which I can enjoy while painting), hanging out with friends, riding my bicycle, watching movies, flea markets, toys, etc.
L: What is your life motto?
KK: Good question…
 Most days it's "I should probably get back to painting…"
L: At all times there was the dispute between artists about what was the most important form or color. What do you think?  
KK: It depends what the goal of the piece is, but for what I do I have to say that both are very important.  Thinking about this, though, I first focus more on form with paint, and color first for illustration work.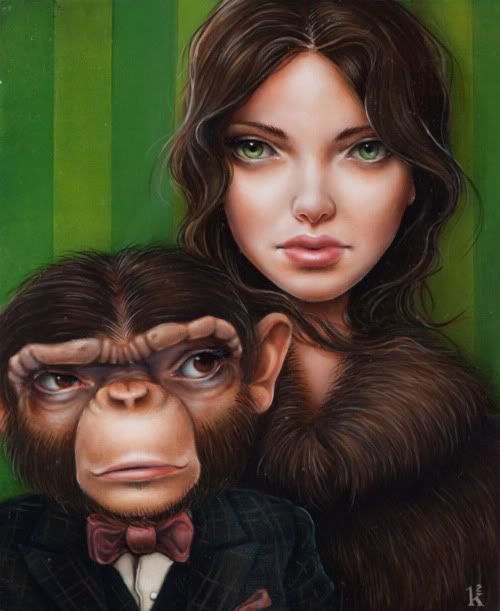 L: When you paint a portrait what is the most important thing you want to express?
KK: Usually there is a story or theme behind the character that I try to show, but that varies greatly between pieces.  Sometimes I'm just trying to be funny.
L: And our special question:) Imagine that you are sweets, what kind it would be and why?
KK: Black Jelly Beans, because they are the gloomy rain cloud of any Easter basket and for a lot of my time working I allow myself to dwell in that mood.
Thank you Ken!